Live Coverage of WWDC 2010
Here it comes, The New iPhone HD
Steve Jobs going live at 10:00am
David Wang aka planetbeing and Mario Ciabarra of Rock.app looking through Apple code.
via ModMyi.com – Live Event Coverage.
http://live.gdgt.com/2010/06/07/live-wwdc-2010-keynote-coverage/
9:56AM – Announcer: "Good morning ladies and gentlemen, welcome to the WWDC 2010 keynote address. Please turn off all cellphones and PDAs." PDAs? Really? Actually, would have been better if they asked the audience to "turn off all iPhones and iPads."
9:54AM – Audience in the back applauding — not sure what for!
"It's changing the way we're experiencing the web. Things like email, photos, maps, you name it — it's a whole new way to interact with the internet, with apps, with our content and media, and it's going over really well. And it IS magical. I know it, because I got this email…" Guy apparently got a girl interested in him with his iPad.
10:13AM – "We get about 15k apps submitted every week. They come in up to 30 different languages. Guess what: 95% of the apps submitted are approved within 7 days. What about the 5% that aren't? Why don't we approve them? Let me give you the three top reasons."
"Now, I'd like to highlight one of these: eBay." 10m downloads, $600m in volume in year 1, $1.5b in volume in 2010. Steve: "Wow. Should we all be this successful."
Side note from  Cydia on Twitter.
http://twitter.com/saurik
Steve Jobs avoids the real issues. It isn't about apps that are rejected: the problem is with things that aren't apps at all, like Latitude. 8 minutes ago via Twitter for Android

I hate unfair comparisons. The Elements for iPad app was so successful because Apple promoted it: something 99.99% of developers won't have. 14 minutes ago via Twitter for Android
Jay Freeman (saurik)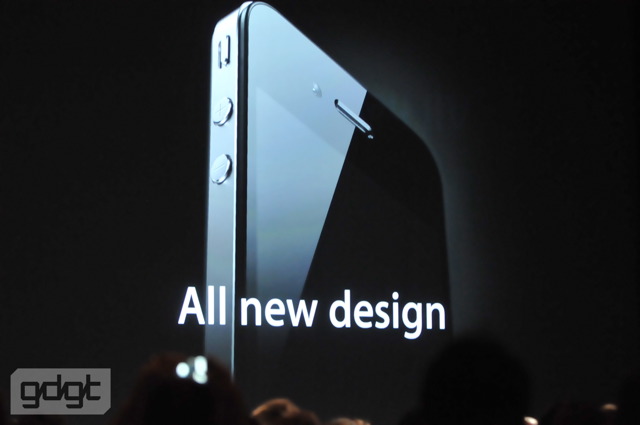 10:33AM – "It is just 9.3mm thick, that is 24% thinner than the iPhone 3GS. A quarter thinner in something you didn't think could get any thinner! In fact, it is the thinnest smartphone on the planet."
10:33AM – "This is the new iPhone 4." Huge applause.
10:32AM – "This is one of the most beautiful designs you've ever seen. This is beyond a doubt one of the most precise and beautiful things we've ever made. Glass and steel… its closest kin is like an old Leica camera. And it's really thin."
"We have a front-facing camera, microSIM, camera + LED flash, headset, and a second mic for noise cancellation. Now, because there have been a few photos around, people have asked, what's this?" The edge of the phone. "What are these lines? These don't seem like Apple."
"There's not another consumer product like this. This is our all new design for the iPhone 4. That's the first point." Big applause.
10:36AM – "It's got integrated antennas right in the structure of the phone — it's never been done before and it's really cool engineering." Big applause. "Stainless steel for strength. Glass on the front AND back. Integrated antennas, and extraordinary build quality."
"Why's that important? We get far more precision… and we play tricks like adding some gray pixels to help fuzz it for the eye. When you zoom out, you get REALLY crisp images. It has 326 pixels per inch. There has never been a display like this on a phone."
"3.5-inches, but 4x more pixels than the iPhone 3GS. 326px per inch. 800:1 contrast ratio, 4x that of iPhone 3GS. IPS — provides much more accurate color and much higher resolution. You can't make an OLED display with this resolution, we think it's quite superior."
10:44AM – Demo over. Steve is clearly not too stoked.
10:44AM – Steve's given up on web pages — showing photos now. "It kinda comes down to what do you want to be looking at all day long? … I'll try one more time here. Well, I'm sorry guys, I just don't know what's going on. Scott, you got any suggestions?" Someone shouts "Verizon!"
"Let's take the back off: the first thing you'll notice is the iPhone is packed to the gills. We went to micro SIM because it's smaller — we need the space. The biggest component in the phone is the battery — we could make it a little bit bigger."
10:50AM – "We've tied the gyro, accelerometer, and GPS for 6-axis motion sensing. It's perfect for gaming — and one of the reasons it's perfect is because it's built into every iPhone 4, so you know it's there."
"Everybody loves to talk about the things that are tangible when it comes to photography, like megapixels. But we tend to ask the question: how do we make better pictures?"
10:53AM – "The gyro joins the four other sensors… these phones are getting more and more intelligent about the world around them. So that's four. Number five. This is a great one. A whole new camera system built into iPhone 4."
"It records a full 720p at 30fps — it's REAL HD. Tap to focus video, built-in video editing, one-click sharing, and the LED flash will stay on to illuminate scenes for video. Record and edit HD video right on your phone. It's pretty remarkable. But we're going even further than that…"
10:56AM – "But that's not all: the camera records HD video." Big applause.
11:01AM – Showing edits, transitions, bringing in music from iTunes. Geolocation information can be imported to titles. This is all looking pretty amazing. There's nothing out today that is remotely comparable to this in terms of mobile video editing.
10:58AM – Demo time! Randy Ubillos, Apple's chief architect of video apps. "This is one of the most exciting things I've ever worked on. Record HD video and edit with beautiful transitions and titles, all on the device you carry with you every day."
10:57AM – "We've written an application ourselves." iMovie for iPhone!
"If you want to see the demos, there's no way to do it. Set 'em on the floor." This is really awkward.
11:05AM – Wait, Steve is seriously asking everyone to stop liveblogging? They're serious!
11:05AM – "Before I begin, our guys are running around backstage trying to figure out what's up. Why? There are 570 WiFi base stations in the room… would you like to see the demos? All you bloggers need to turn off your base stations, put your notebooks down."
"And we're going even further and giving it some metal." Heh. "It's our most ambitious release to date — over 1500 developer APIs. Over 100 new user features, the biggest being multitasking. Some people were saying you weren't first with multitasking — the same was true with cut/copy/paste. But we took some time to figure out how to do it right."
Showing the meta media controls in the multitasking tray, unified inbox with threading, folders, and lots of other new stuff. "So, iOS4: Multitasking, folders, Retina Display integration, unified inbox and threading in Mail, lots of enhancements in camera and photos, deeper enterprise support, and tons of new features everywhere."
11:11AM – The engineering team at gdgt HQ just made a good point: the "iOS" name is already taken by Cisco. (It's what runs most of the internet, as a matter of fact.) Then again, Cisco owned the "iPhone" name, too, as you might recall."
I wanted to hit for a moment on the enterprise integration — our customers are thrilled. Better data protection, wireless app distribution, multiple Exchange accounts… another thing we're adding on the consumer side, today we have Google and Yahoo search."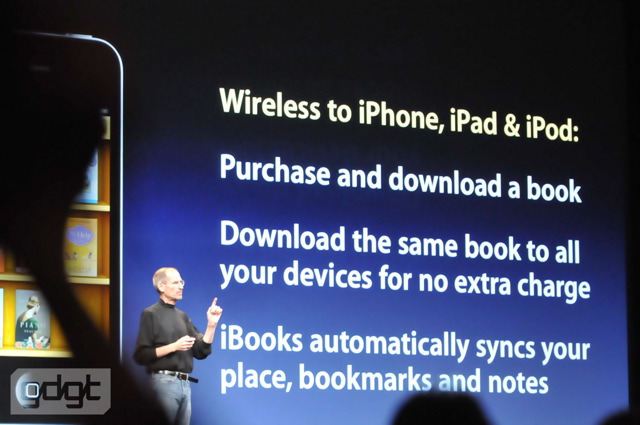 "You only have to buy it once. And, iBooks will automatically and wirelessly — and for no charge — sync your place, notes, and bookmarks across all your devices." Big applause. Sorry Kindle!
11:17AM – "What can we do with all these products together? Well, the first is you can download and purchase a book to any of these products, and it'll be wirelessly downloaded right to the device. Now, you can download the same book to all your devices at no extra charge."
11:16AM – "The same controls, the same highlighting, the same bookmarking, the same PDF reading. If you get a PDF in Mail, tap on that and you'll go right to iBooks. And, of course, the iBook Store right on your iPhone. We'll have it on the iPad, iPhone, and iPod touch. This gets interesting."
"You only have to buy it once. And, iBooks will automatically and wirelessly — and for no charge — sync your place, notes, and bookmarks across all your devices." Big applause. Sorry Kindle!
"Nissan, Citi, Unilever, AT&T, Chanel, GE, Liberty Mutual, State Farm, Geico — they want you guys to have insurance! — Sears, JCPenny, Target, Best Buy, DirecTV, TBS network, and Disney. Those are some of the brands, and we couldn't be happier. We're so excited."
11:24AM – "Apple hosts and sells the ads, so all you have to do is tell us where you want them and make the money." Chuckles. "We've only been selling ads for 8 weeks, and I'd like to just show you about some of the brands that will be advertising with us during the second half of the year…"
11:26AM – "I wanted to pull an ad, Nissan is working on one for their fully electric car… they were hesitant to show it, but I really wanted to show you, so I convinced them." Laughter.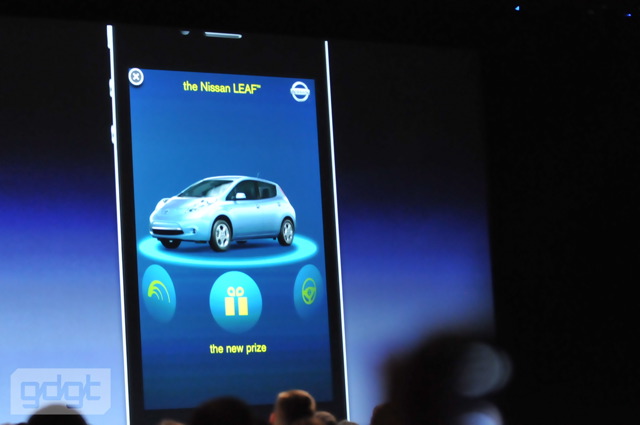 Showing the interactive Nissan Leaf iAd. Steve registered on the ad with his sjobs email address — laughter.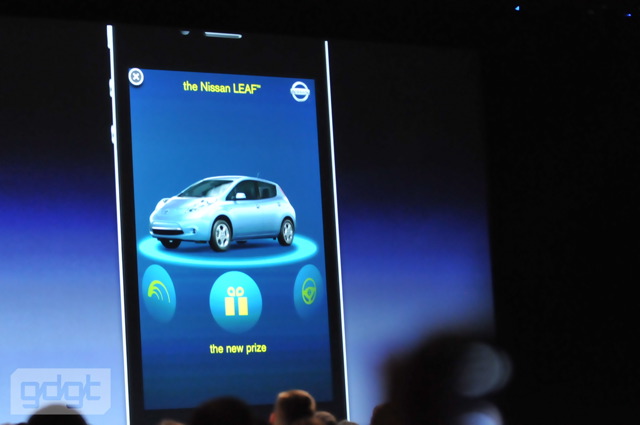 11:34AM – Jony: "I did, too — I used to love the optimistic view of the future. And it's real now, isn't it?"
"It's real now. Especially when people turn off their WiFi."
11:34AM – "Hey Jony how you doing?"
"I'm doing okay — except for these guys who aren't turning their WiFi off. You know, this is amazing… I grew up with the Jetsons and Star Trek communicators. I grew up dreaming about this stuff…"
11:33AM – "In 2007 when we launched the iPhone, I got to make the first public call on the iPhone…" Jony's face shows up on the screen. "Hey Jony! This never freezes up, so you haven't turned off all the WiFi — let's get it off please!"
11:32AM – FaceTime — video calling.
11:32AM – Steve's seated, and about to make a call to Jony Ive on the iPhone 4.
11:32AM – "I really want your WiFi devices off, are they off? Please turn 'em off if you've turned 'em back on.
Big applause. Guess that FaceTime calling wasn't over the cellular network!
11:34AM – Jony: "I did, too — I used to love the optimistic view of the future. And it's real now, isn't it?"
"It's real now. Especially when people turn off their WiFi."
11:34AM – "Hey Jony how you doing?"
"I'm doing okay — except for these guys who aren't turning their WiFi off. You know, this is amazing… I grew up with the Jetsons and Star Trek communicators. I grew up dreaming about this stuff…"
"You can switch from the front or rear camera automatically. It's WiFi-only in 2010, we're working with the cellular providers to get things ready."
11:36AM – "We call this FaceTime — video calling. It's… it's great. It's iPhone 4 to iPhone 4 anywhere there is WiFi, and there is no setup required."
"Price and availability! iPhone 4 comes in two colors, black and white — price is $199 in the US for the 16GB model, and 299 for the 32GB model." 11:40AM – "FaceTime… that's number nine. That's iPhone 4, and we think it's the biggest leap we've taken since the original iPhone. I think you'll agree there's more to it than met the eye." Sound like a vague Giz reference.
iPhone 3G is gone, 3GS now 99, on sale June 24th.
11:42AM – "So you can get up to 6 months early eligibility to upgrade. We're thrilled about that. What's our lineup look like? Yesterday it was the 3G for 99, and the 3GS for 199."
11:41AM – "I'm thrilled to announce AT&T is going to make an incredibly generous upgrade offer. If your contract expires any time in 2010, you are immediately eligible for a new iPhone 4 at the same 199 or 299 prices if you top up your contract 2 years."
"Pre-order start a week from tomorrow. We'll be hsipping in five countries, US, France, Germany, UK, Japan — in July, we'll be doing 18 more countries."
"We've finally found a way to get these upgrades for free to our iPod touch customers, and we couldn't be happier. We've put together a video to summarize all the features of the iPhone 4, and I'd like to run that now…" Video time.
11:44AM – "We will be offering iOS4 upgrades for the 3GS, 3G — but again, not all features will be supported in the 3G — and iPod touch… upgrades for all these products will be free on June 21st."
This is going to change everything. All over again." Big applause for the video. Steve's back.
11:50AM – Still reviewing iOS4 features, now talking A4 and the 40% increased call time.
11:52AM – "It's the hardware and software working together. It's not just a great new camera, it's the built-in editing software and iMovie. It's not just a front-facing camera, it's a front-facing camera and 18 months worth of work to create software you'll never even notice when you want to make a video call."
"I put up this slide earlier this year, and to me it represents what Apple is all about. It's not just a technology company, even though we have and invent some of the highest tech in this industry. It's more than that. It's the marriage of that and humanity."
Huge thanks to the always awesome team at the Rackspace Cloud for powering today's live coverage!
If you haven't already registered as gdgt user, head on over and add the iPhone 4 to your list!
Thanks for reading, everybody!
11:55AM – "Thank you very much for coming. This is our new baby, I hope you love it as much as we do!"
11:54AM – "All the rest of the Apple family that supports us in a thousand ways, I'm really proud of all you guys. Awesome job." Applause.
11:54AM – "Jony Ive and the design team… the A4 team… Scott Forstall and our remarkable iOS software team… all of this wouldn't make any difference if we couldn't build a ton of them. Tim in our operations team…"
11:53AM – "I am so proud of the team that created this product. It's really extraordinary. Before we end today, I'd like to say thanks to the teams who've worked their tails off to create the iPhone 4. Mark Papermaster, can you please stand up?" Big applause in the room.